******   8 PUPS BORN 9/17/20 ******
ZOEY & HUEY LITTER 2020
Int'l Ch Amber Trace So Zoetic By Ropasa, BCAT  X  CH Kengali's O Dark Thirty, CA
Pregnancy is confirmed for our girl Zoey.  We expect puppies born around September 19th.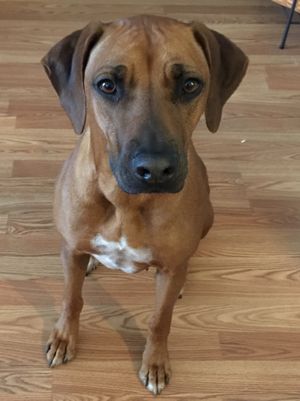 Zoey has her own page on our website including pictures, health clearances, and pedigree.  Link to Zoey's Page  Also, check out some of her kids too. Mazey, Zynga, and Link have pages also.
The sire of this litter is a boy that we noticed in the show ring last year.  He has nice substance and size with a good temperament. He has a pedigree that should match nicely with Zoey.  Pictures and information below.  
9/19/20
The puppies were born September 17th.  Zoey started labor late Wednesday night and finished up Thursday morning.  We all went over 24 hours without rest!  We have 4 boys and 4 girls.  7 perfect ridges and 1 boy that looks like a single crown ridge.  All pretty babies with no faults found so far. They were a few days early so are a little smaller than normal but all about the same weight and active and nursing.  Zoey is a great Mom and I can hardly get her to get up and take a break to eat and potty. 
I am going through the applications again and will be reaching out to people soon.  The wait list is full so I am not accepting new inquiries for this litter.  Next litter plans will be the Spring of 2021.
Here are some pictures.  
9/29/20 - The puppies are doing great!  Zoey is a wonderful mom and the babies are a bunch of fatties. All gaining weight. I am adjusting collars everyday as they are growing so fast.  Eyes should be opening soon and then they will really be on the move.  They had a nail trim already and we will trim nails every week going forward.  I know Zoey appreciates it!   
10/21/20 - Almost 5 weeks old!  They are all doing well and have moved to the big puppy pen for more room to play.  Zoey is starting to wean them and can enter and exit the pen as she wants.  This is a very consistent litter and most of them look alike.  Glad they have color collars! They are all eating well and demand their breakfast in the morning very loudly. I swear Zoey tiptoes when she checks on them so they don't wake up. Here are some pictures in their favorite bed (that they are outgrowing fast) and their first time outside.  The other dogs are curious and will be able to play with them in about a week.
All the puppies are in their "furever" homes!  All doing well.  We are very pleased with all these babies.  All outgoing, healthy, and very consistent.  Hard to tell them apart without collars because they were so similar!