ZOEY

IABCA Int'l CH & ICE Int'l CH Amber Trace So Zoetic by Ropasa BCAT

Sire:  Top of The Rock Bao's Graf TD, SC, HIC, CGN, TT, VC, CGC   
Dam: MBIF MBIS UKC Ch & Int'l Ch FC Zuri's Ropasa Escapade, MC, LCM2, CGC, VFCH, BCAT, LCX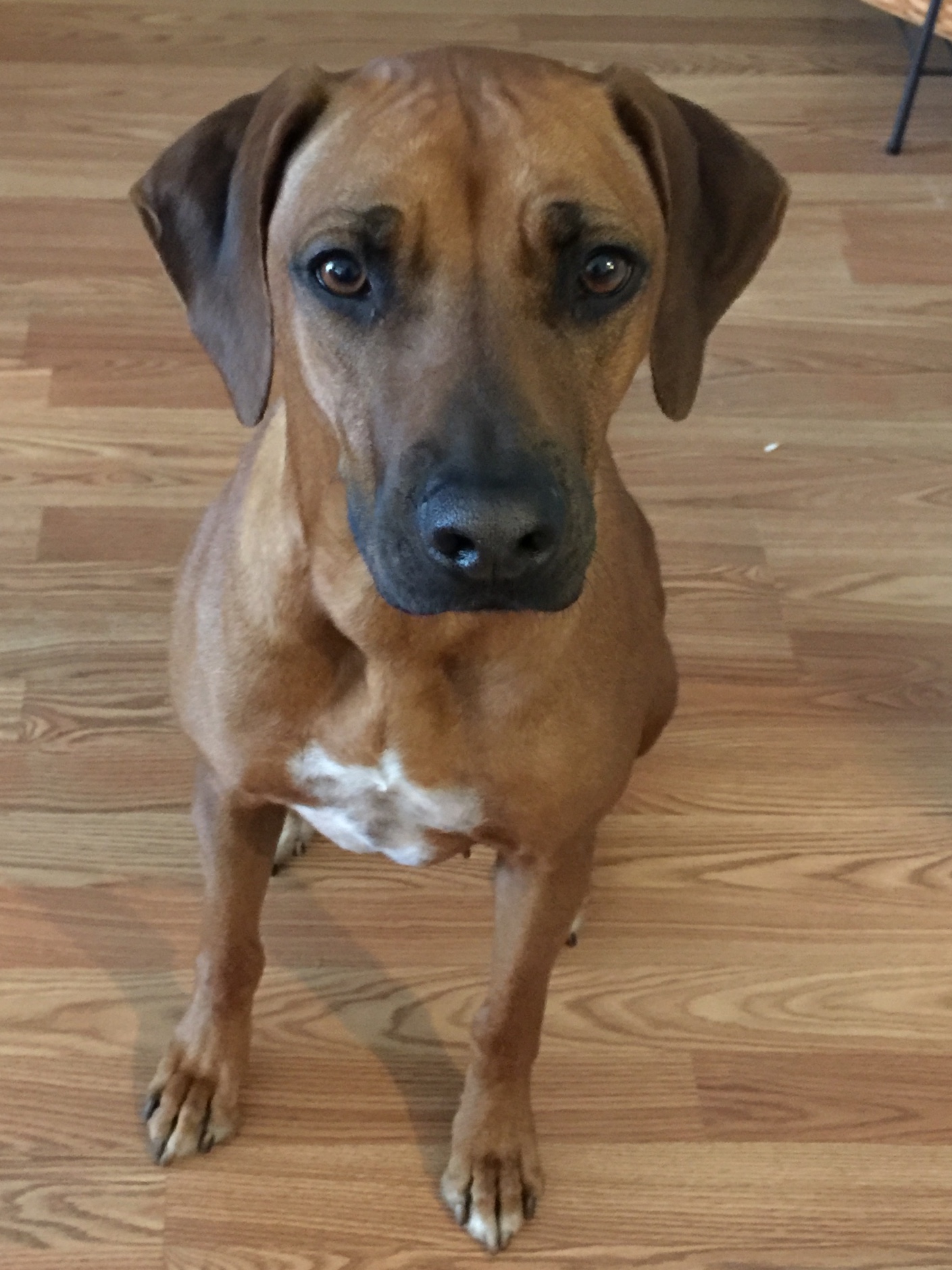 DOB: 8/19/14                          Height: 24-1/2"                  Weight: 70 lbs
Health Clearances: CHIC #126750
Hips - Excellent (Rating by OFA)
Elbows - Normal
Patellas - Normal
DM - High Confidence Clear
Thyroid - Normal
CAER (Eye Check)  - Normal 
EOAD - High Confidence Clear 
          
Zoey is a real pleasure to have around.  We love her deep red color and lovely head.  She has her favorite spot at the foot of my side of the bed.  As she gets bigger, it's getting harder to let her stay there!  I find myself having no leg room anymore. She is super sweet and has been an easy puppy to raise.
In 2015 Zoey earned International Champion Titles from two organizations, ICE and IABCA. International shows provide written critiques of the dog and all judges had nice things to say about Zoey. 
Zoey won a 4th placement in the Amateur Owner Handler Bitch class at the Rhodesian Ridgeback National in October 2016! We were so excited to have placed at this special event where all the top Ridgebacks in the country are shown.
However, no matter how much I tried to convince her that showing was FUN, she is not a fan. She looks unhappy in the ring as she finds it so boring and we have decided not to continue showing her to finish her AKC championship. We do different things with our dogs to have FUN and if they don't like it, we won't make them continue with it.  We will try a few other things with Zoey, but I think she just prefers to lay on the couch and romp in the yard.
Zoey earned her BCAT title in January 2018.